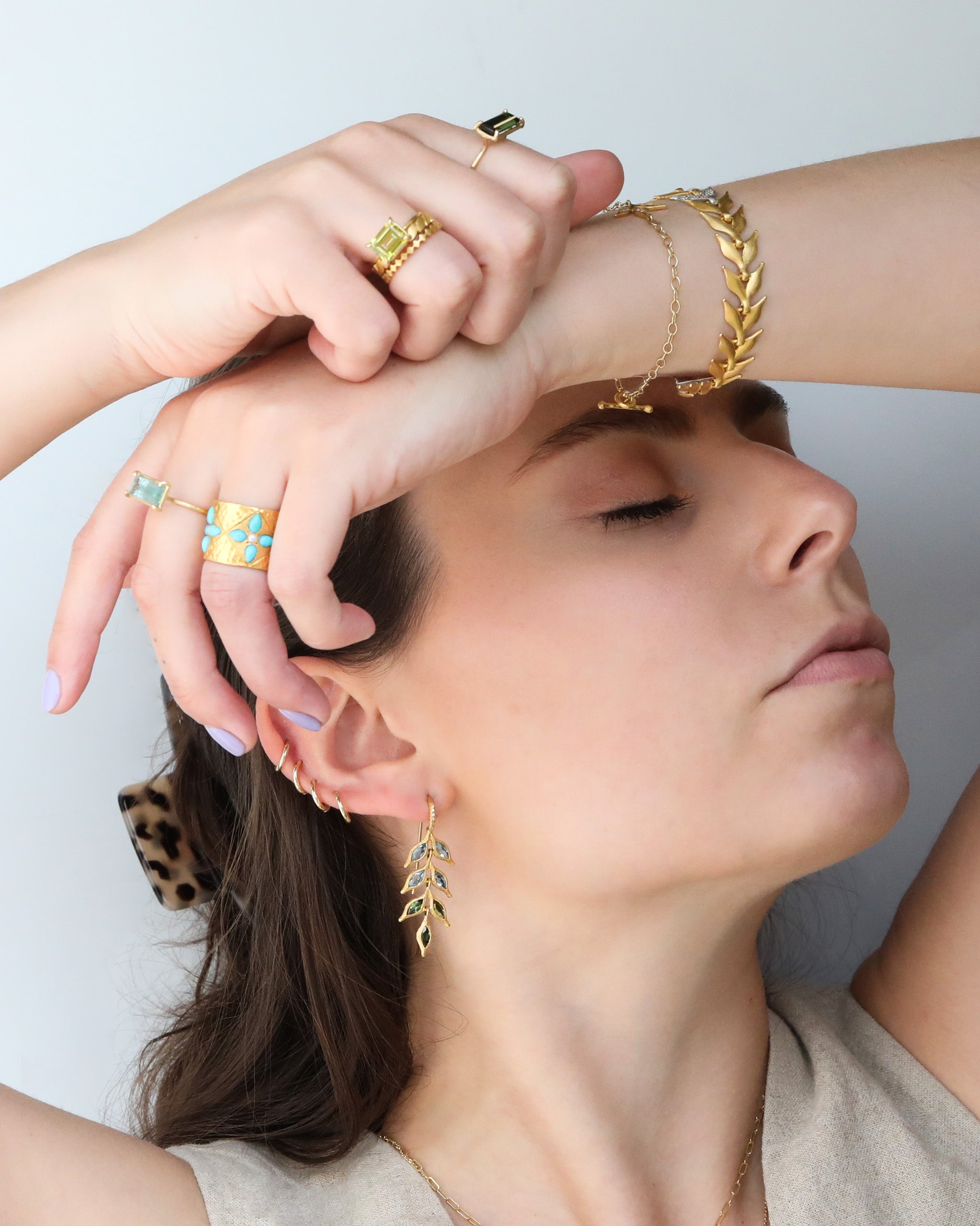 SHIPPING & RETURNS
GROUND:
- FREE for orders over $100
- $10 for orders under $100
2ND DAY AIR:
- FREE for orders over $200
- $20 for orders under $200
NEXT DAY AIR (OVERNIGHT):
- FREE for orders over $2,000
- $30 for orders under $2,000
____
We ship all packages via UPS. Once we ship your package, you will receive an email with a tracking number. Due to the high value nature of our jewelry, we ship with a signature requirement and someone must be home to receive the packae. Or - If you live local - let us know and we can deliver right to your door!
We typically provide next day shipping for orders placed by 4pm Tuesday- Friday. We can arrange for Saturday shipments for an additional charge. We do our best to provide accurate shipping delivery times, however, we cannot be responsible for delivery delays beyond our control.
If you live outside of New York State you can shop tax free! We do not charge tax on items being shipped out of state. All orders shipped within New York State are subject to your local sales tax.
We work with GlobalShopEx to ship worldwide. Simply choose the "International Checkout" option, and pay duties and taxes up front.
We offer refund, store credit, or exchange for any items purchased online within 14 days of receiving your order. If you aren't completely satisfied with your purchase, send us a text at 914.833.7333. We'll help you find something you love, or issue a full refund (less return shipping charges).
If something isn't quite right, we accept returns within 14 days of receiving your jewelry. Reach out via text, or email, to initiate a return, and we will issue a UPS label. We ask that all jewelry be returned unworn, in its original condition, and in the original packaging. Please take care that the package does not jingle or shake in order to protect against theft or damage during the shipping process. Please use the same shipping box the jewelry was delivered in to avoid extra shipping charges. Please note that return shipping charges will be deducted from your refund total.
Any orders that were special ordered, customized, or modified (including ring resizing) cannot be returned or exchanged. They are final sale.
After placing your order, you'll receive a confirmation email straight to your inbox. Please note: a confirmation email does not mean the item has shipped. You will receive a separate shipment email with tracking information. If you created an account with us, you can also login to check your order status.
SHOP WORRY FREE
View our return policy above and shop worry free with the option to return for a full refund (less return shipping charges) within 10 days of receiving your order.
REPAIRS & SPECIAL ORDERS
We stand behind the quality of all of our pieces - so if a piece of your jewelry breaks, bring it in and we will contact the original designer to get your piece repaired. We will let you know any charges incurred in advance, including shipping and insurance to/from the designer's studio.
Repairs are sent either to the original designer of the piece or to our master jeweler, and prices are quoted to you when they receive and assess them. If you approve the cost, we will give the go ahead!
Repairs generally take 4-6 weeks,but sometimes as long as 8-10 weeks, depending on the designer. If you need a piece quickly, please let us know.
You pay for the repair when you pick up (and are satisfied with!) your piece. We are happy to take payment info over the phone and ship to you if you aren't local. Please note that due to the labor and costs involved with repairs, they all start at $75.
Sure! If the piece is made by one of our designers, and is not one of a kind, we are happy to place a special order for you.
We do! If you want to make a simple customization (such as different ring size or chain length), the easiest thing to do is contact us at the store. We will let you know if there is any additional charge associated with the alteration, as well as the expected turnaround time. All alterations are completed by the designers themselves; no work is done in house at Peridot. For a more complex customization, we can discuss the details over the phone or by email. A number of our designers are happy to adjust their designs for custom requests.
Yes! We want to make sure your new piece is the perfect fit. Please ask if you have questions about ring sizes, chain lengths, etc.
If a custom alteration is needed, you can expect about 4-6 weeks for delivery. If needed sooner, contact us and we will do our best to expedite your order.
Rings: If the ring you wish to purchase is not shown to be available in your size, please contact us about resizing or special-ordering options. All first time ring sizing is included in your purchase.
OTHER FREQUENTLY ASKED QUESTIONS
We accept Apple Pay, Google Pay, Shop Pay, Zelle, PayPal, check, cash, and all major credit cards. 
Yes! All of our orders arrive with our free and fabulous signature gift-wrap. We are also happy to include a hand-written card with a special message from you (you can enter what you would like to say when you are on the check-out page).
We are more than willing to compile pieces based on your wishes, take pictures of the pieces on one of our staff members, and email or text them to you. We understand that it is sometimes hard to get a feel for a piece online, and seeing it on a person is essential. We are here to help!
If an item is out of stock, the 'Add to Cart' button will not appear. Instead, you'll see a message encouraging you to reach out to our store for more information. Any item without the 'Add to Cart' button can be special ordered. Turnaround time for special orders varies by designer, and can take anywhere between 4-10 weeks.
This happens from time to time. Most likely, the price on the other site is not current. Metal and stone prices fluctuate very frequently, so jewelry follows suit. We do our absolute best to keep up with current pricing. However, if our pricing is incorrect, we will of course match the lower price for you.
We have both an in-store and online 'wish-list' feature where we note items you've loved. We will gladly send you pictures and prices of the jewels on your wish list, or you can stop by in person to see them up close.